January 2021
My second HiFi cabinet commission in a few weeks!! You might think that with folk streaming music that getting work to make HiFI cabinets would be dead… but no there are plenty of great folk  out there with Records, CDs and Cassettes..Rock ON!!
Made a cardboard mockup to show my client how her cabinet will look full scale in her room…
New commission to make a dark oak desk based on a classic mid 20th century design by "Le Corbusier Jeanneret with a leather top, should start April
December 2020
Just starting on concept designs for a cabinet with tambour doors…
New commission to make a large oak Credenza/HiFi unit, will start in Feb 2021
November 2020
Currently making a Christmas batch of four Blackwell Clocks, two in Walnut and two in Oak. Here they are ready for their black hats…
October 2020
Ebony Door Pulls for my current Hall Cabinet Project

Currently working on a commission for an under stairs Hall Cabinet in Cherry and Birds Eye Maple
News and Projects
August 2020
Interesting job outside during lockdown this summer.
A rustic cabin office for a made for a home worker…
June 2020
Nice Job to make a door this week out of Southern Yellow Pine with coloured glass panes
Working on a commission to make two simple bedside tables in Cherry to match a Cherry Bed that I made a few years ago.
I am making good progress with may latest cocktail cabinet and have decided on coloured glass which makes it look a little Bauhaus!
March 2020
Im quite advanced with my next design for a small cocktail cabinet (first concept images below)
It will be made from wenge and quartersawn oak and will have a glass top lit from underneath to show off a vase etc
There will be one door with red glass inserts lit from inside and room for a few bottles of whisky and glasses plus a small pull out tray for pouring.
More pictures will follow as the design develops..
December 2019
Last mock up of Flight Table No.3 completed using MDF and clamps around my recently made walnut legs. Happy with real life size and comparison to drawing. Will crack on with the build until the inevitable pressure of Christmas shopping overcomes my desire to make the table!..

Currently working on my Flight Table No.3, a console / hall table with a serious attitude..
A full scale drawing helps me gauge what the real piece will be like…
A Bowland Hare

November 2019
Latest of my Bowland Bird series..The Kingfisher…..
"Kingfisher Wingfisher Dip Dive Flash.."
Currently working on a commission for 2 Oak Settees. The design is to match my client's table that is the style of  Frank Lloyd Wright.
The settees are being made from beautiful quartersawn oak with vivid grain patterns.
First Settee Finished, second will be completed in the next few days, now waiting for the upholster to do his leather magic!
October 2019
September 2019
The Pewter version of my Blackwell clock is proving popular, i currently have two on the bench on test.
August 2019
Currently working up ideas for a desk for a client which will have lit openings on one side for special items…more soon

July 2019
Main cabinet built, working on the internals including the tray drawer and mats which i have designed and mocked up today using CAD software and cardboard!
Making very good progress with  my "Helios" cocktail cabinet. It will be exhibited at the Celebration of Craftsmanship in Cheltenham in August.
Final design picture below:
May 2019
I am working on the design of a new cocktail cabinet to be made from cherry with wenge and sycamore, more details soon…
January 2019
I have invested a couple of hours making a full scale model out of scrap wood of my side tables commission prior to investing maybe a month making the real ones. I am pleased with the result..
My commission for a multi coloured drawer cabinet is almost complete..here are some sneak pictures..
December 2018
I often get requests for secret compartments in my furniture commissions, here is a concept design for a secret drawer compartment that i will be making soon..
September 2018
Currently working on a design for some modern and colourful bedside furniture…more pictures soon…
My favourite bird from the Forest of Bowland.. the burbling Curlew..
Nice job to make some carved pictures of birds from the Forest of Bowland  This is the lapwing, famous for its tumbling aerial displays and peewit call…
Curlew next..
May 2018
Starting work on a new commission to make a bed from American Cherry. I picked up some amazing boards but where do i cut them?
March 2018
I am close to completing my luna cocktail cabinet, there are some internals to complete – the glass and mirrors, lighting, tray and coasters etc.
I'm looking forward to posting the pictures of the finished cabinet, probably early April.
January 2018
I have been working on my cocktail cabinet commission which is quite complex due the composite design with walnut on the outside and sycamore on the inside. I initially made a full size mockup and I am now making good progress on the cabinet. The picture below shows the cabinet on its mockup leg stand. The job now is to complete all the shelves and partitions before gluing the carcass together.
November 2017
I am currently finalising the design  for a contemporary cocktail cabinet to be made from Walnut, Wenge and Ripple Sycamore with Steel elements…
September 2017
Orwell desk delivered and on site, the contrast of black and oak matches nicely with the bookcases..
July 2017
I have had  an unusual request to make a portable desk bureau out of Birch Plywood and Southern Yellow Pine. The desk will come apart and is to be installed at 22 locations as part of the Jane Austen 200 year celebrations.
My Orwell desk commission is now standing on its legs and I have started on the 6 drawers. The bigger filing drawers will be on special drawer slides so that they open very smoothly  even with lots of weight in them.
April 2017
My library bookcase project is now completed with the delivery of the library ladder
I am just starting work on a new desk and chair  made from oak and sycamore.
The desk has contrasting woods of oak, ebonised oak, sycamore and ebony. There will be 6 custom drawers for filing, pens etc. There will also be power and USB sockets inside the desk plus some secret compartments!! I will post pictures as things develop.
March 2017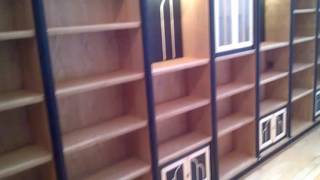 It took a whole week to install phase two of my bookcase commission Click on  GIF Animation below to see a 10 second summary….
GIF
Just completed Phase 2 of my bookcase commission, my client is really excited.
December 2016
First phase of my bookcase commission installed

Inserting ebony stringing on the bookshelves, all 120 of them!
 November 2016
Completed the 6 sets of small cupboard fronts
Getting close to completing the small cupboards for the bookcases, the picture below shows the oak door panels being ebonised with a potion of apple vinegar and steel wool which effects the tanin in the oak and makes it jet black
Picture below shows the completed sycamore door frames with the carved circular door pulls. The doors will be bleached white and the frames ebonised black. Deco style black and white panles will be made next…
October 2016
I am full on making the bookcases. Starting with the doors and frames. The doors are made from English sycamore with haunched mitre tenon joints on the corners, 64 of them now all done phew! The doors will then be bleached white to contrast with the black/white deco panels (to be made next!)

September 2016
Just got an exciting commission to build some big bookcases for an author who has a lot of books! There will be two large sections like the photos below to go on both sides of a large room in his house. The bookcases will be made mainly from oak with sycamore doors with curved glass elements. The Art Decoish pattern will  inlaid into ebonised  black panels and also on the smaller cupboard doors. A desk and chair are also being designed to match, watch this space!
August 2016
I recently showed some of my work at the Designer Craftsmen Exhibition at the Mall Galleries, London
There  was some fantastic art work in this amazing space on The Mall.
July 2016
I am currently working on my Flight Hall Table Number 2
The top has more of a winged effect and the drawer will have hawk like inset handles…
June 2016
Completed the chair to match my Arne16 desk, the back rest was hand shaped in a style reminiscent of the late Sam Maloof.
May 2016
I am currently working on a chair to match my Arne16 desk, I am hoping to achieve a sculptural feel to the piece where the legs, arms and rails flow into each other. This is achieved by using hand rasps to form the wood in to flowing organic forms. Below are some initial sketches and a simple full size MDF mock-up. Next job is to make another full size mock up out of pine before any Walnut is touched..!

April 2016
I am currently building my  Arne16 desk  and chair. The desk has strong 50s/60s Danish influences with a contemporary look of my own style. This exciting project is now quite advanced and I have finished the top with just the legs and oiling to go.
February 2016
I have just completed and delivered an exciting commission to make a contemporary sideboard for a client who received one of my stripey boxes as a present. The first image below was created as part of the design process and truly represents the finished piece in the clients room. The picture below shows the finished piece in situation in the client's  house
June 2015
Lancashire Life
Lancashire Life recently wrote an article about John Morris (www.johnmorrisfinefurniture.co.uk) and myself in their June 2015 edition.
Click on the link below to see the full article in PDF form
going with the grain article may 2015
http://www.lancashirelife.co.uk/homes-gardens/interiors/furniture_makers_in_the_ribble_valley_1_4078191